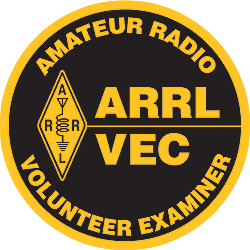 In-Person Exams have started in North Austin with a 10:00 AM (Central) start time.
Exam Session Dates:
3 September 2022 - 14 applicants passed their exams
5 November 2022
7 January 2023
4 March 2023
6 May 2023
1 July 2023
The location is:
Wells Branch MUD office
14611 Wells Port Dr
Austin, TX 78728 Google Map
Wells Port Dr is one stoplight east of Thermal Dr (Thermal becomes Metric further south), and a couple lights west of I-35 on Wells Branch Parkway.
Head north on Wells Port from Wells Branch about 1/4 mile and look on the right.

Enter on the left side of the building (there will be signs up).

We can accommodate up to about 30 applicants per session.
Walk-ins are welcome but may have to wait or be turned away if we reach capacity.
Unless prior arrangements are made, we will not accept any applicants arriving after 11:30 am, so we all have a chance to fully test and enjoy the rest of our Saturday.
Anyone arriving before 11:30 am WILL BE TESTED.
We can accommodate visually-impaired applicants with prior notification to make sure we have a separate team to work it properly.
Email me at This email address is being protected from spambots. You need JavaScript enabled to view it. to let me know if you plan to attend (but not required).

Starting at 10 am, depending on how many tests (and how many pass and continue on to General/Extra), I expect to be done and cleaned up by about 1pm (give or take 30 minutes).

If you are an ARRL VE and wish to be on my list to work sessions, email me at This email address is being protected from spambots. You need JavaScript enabled to view it..
Being on my list, you are not required to work any session. This is for fun, not a job!
If you are an ARRL accredited VE and haven't attended any testing in 2 years, let me know so I can assure that you are on "Active" status with ARRL VEC before the session (and avoid any hiccups).
If you hold an Extra class license and want to work ARRL VE sessions, you can apply and test at http://www.arrl.org/become-an-arrl-ve .
If you are a W5YI (or other VEC) VE and wish to work ARRL sessions, you can get ARRL accreditation by filling out a form and submitting a copy of your VE cert at http://www.arrl.org/become-an-arrl-ve . Once you are ARRL accredited, email me to get on my list.
Im always looking for volunteers to work sessions (ARRL VEC sessions only at this time).
I will email my list a week or so before each session to see who is available for that session.
If you want to work any/all sessions listed above, let me know ahead of time and Ill put you down. Cancellations accepted in advance also.

Latest ARRL/FCC rules/procedures:
All applicants must have an FRN for the 605 form (no more Social Security numbers).
We will have a laptop available to setup a CORES account and get an FRN if needed, but that takes time, so please plan ahead and have your FRN when you arrive.
You can prefill out a 605 and print to bring with you: http://www.arrl.org/files/file/VEs/605%20Form_2020_Fully%20Interactive.pdf .

Cost at session is $15 cash or check (made out to "James Kinter").

If you pass your 1st exam, you may try for the next level for the same $15. Come in for Tech and walk out an Extra for $15!
If you fail an exam and wish to try again, it would be an additional $15, and you will get a different test (if you pass one and fail the next, you still get the one you passed).

If you have an expired (more than 2 years) license of General or higher, bring a copy (or some proof) of your former license to the exam.
You will take the Technician, and upon passing will get a "paper upgrade" to your previous class license automagically.
You will get a new callsign, and if you wish can then apply for a vanity of your old call afterwards (if it is available).

Session results are electronically submitted later that same day.
Once results are submitted and processed (usually 1-2 days via ARRL), applicants will get an email to pay the FCC fee of $35 within 10 days.
When that payment is made, the new callsign or upgrade will be assigned usually within minutes.

The last session we did, results were electronically submitted on Sunday evening, people were getting callsigns that Tuesday! (2 days!)

There are no mask/jab mandates/requirements to attend the sessions, but feel free to mask-up if you desire.

Special thanks to Rickey AE6QE for finding us this venue!

Tell your friends, family, and coworkers!
Even your YL, let them know that many ladies have their tickets (and usually get priority on a pileup! :-) ).
Feel free to forward this email to any people or groups who may be interested.

For all those patiently waiting to test or upgrade in person, now is your chance!
Start studying and we will see you there!

73
Jim Kinter
K5KTF
This email address is being protected from spambots. You need JavaScript enabled to view it.