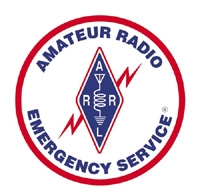 Hello all ASEC's, DEC's, EC's and other interested parties,
Mr. Scott DeMasi, KC5NKW has accepted the position of Emergency Coordinator (EC) for the Northeast Unit in District 14 of the South Texas Section. District 14 is composed solely of Harris County subdivided into 4 quadrants. I-10 is the north-south divider. I-45/HWY 288 is the east-west divider. Scott replaces Mr. Jimmy Wells, K5WEL. We hope to see Jimmy back in action at our local public service events soon. District 14 EC (DEC) Mr. Sherwin Klemp approves of the new appointment.
Mr. DeMasi received his initial license in 2005. He was in and out of radio activity over the years. Boy Scouts reenergized his radio interest, ending up "jumping in with both feet". Scott continues "to work to get our scouts licensed and, on the air." "I joined ARES about 3 years ago and have served as the AEC for the ARES District 14 for the last couple of years." "I also serve as one of the four ARRL STX Youth Coordinators."
"I enjoy working HF digital modes, with my most recent interest being the newer JS8Call mode." "Working now to finish my studies for my Extra license." Scott wishes that he had done that a long time ago!
Scott has been married to Susan for 25 years. They have two "awesome kids that are not much of kids anymore." "One at 18, getting ready to attend Baylor and the other at 21, finishing up at North Texas."
Scott continues, "I am a food guy and have been in the food business all my life." "In restaurants, I have managed, owned, and sold to them for a long time." "Currently, I am a food broker in the grocery business and deal with most of the local restaurants in town."
Aside from my work, Scott spends a lot of time working with Boy Scout Troop 839, out of Kingwood. Scott remarks "It is very rewarding to play a small part of these young men growing up achieving the rank of Eagle." "I enjoy camping, backpacking, hunting and pretty much anything that gets me out to the woods or the lake."
"I am the Director for Wreaths Across America-Houston where, every December, we work to place remembrance wreaths on the graves of our fallen veterans at the Houston National Cemetery." "Our local ARES group manages the Comms support for the event."
This appointment is effective February 15, 2022.
Regards to all,
Jeffery A Walter – KE5FGA
ARRL STX SEC