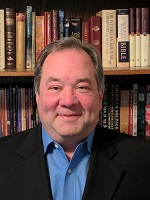 Mr. Terry Jones, K5LGV, has accepted the District Emergency Coordinator (DEC) Position for District 7 of the South Texas Section. The district is composed of Bastrop, Caldwell, Fayette, Hays, Lee, Milam, Travis, and Williamson counties. Outgoing District 7 DEC Mr. Ken Malgren, K7MAL, will remain locally active, serving as needed as net control.
Terry's work career started out as a Field Engineer in Dallas/Ft Worth working for corporations such as Digital Equipment Corporation where he became the youngest Field Service Manager in the company. Managing the Classified Field Service Group for most of the Defense Contractors in the Dallas area such as TI, E-Systems, Collins Radio, during President Reagan's Star Wars Initiative. Eventually becoming the National Account Manager for E-Systems.
Terry moved into commission sales with a company in the early 90's that became GTE, now known as Verizon. Selling network systems maintenance and hardware, he was eventually moved to Austin to manage a project he sold to Andersen Consulting, and the State of Texas Child and Adult Protective Services in 1994.
Terry embarked on a series of entrepreneurial businesses beginning in 1998, he continues today in entrepreneurial business development.
As if that were not enough, beginning in 1998, Terry served on staff at a local church as an Elder, then Ordained as a Pastor in the early 2000's. He maintains his ordination and has presided over the marriages of some WCARES members.
Now to amateur radio. Terry passed his technician test in June of 2011, then passing his General one month later. Taking CERT at Austin CTECC, he joined TCARES in fall of 2011, and served in the CTECC Ham Room. Moving to Georgetown in 2012, he joined WCARES in 2013. Becoming AEC Net Manager in 2015, and Wilco ESOC team member in activations. He passed his Extra Class exam, and became Away Team Certified in 2016. Terry was appointed as Emergency Coordinator of WCARES in June 2016
Appointed EC of Williamson County (WilCo), Terry immediately implemented and activated Incident Management Teams, and Incident Command System Structure as a standard operating procedure. This included the implementation of full ARES uniforms for all members. This has allowed WCARES to be incorporated into our served agencies, most of the time as one of team. Prior to taking on EC duty, Terry had worked with Wilco to develop a badge process for the ARES Volunteers having full access in WilCo operations, with background checks.
Terry recommended and supported the installation of one of his staff as EC of Lee County. He is dedicated to support that EC and proud to have contributed to making the county successful.
Terry has 5 grandchildren aged 18 months to 12 years, another arriving in August, 3 married children, and an exceptionally wonderful wife of 23 years.
This appointment is effective June 1, 2021.
Welcome Terry as DEC while remaining the WilCo EC for a bit longer.
Regards to all,
Jeffery A Walter – KE5FGA
ARRL STX SEC
RACES 16-201-U