Strict Standards
: Declaration of JCacheControllerView::get() should be compatible with JCacheController::get($id, $group = NULL) in
/home5/qslomcom/public_html/arrlstx.org/libraries/joomla/cache/controller/view.php
on line
137
The geographic center of Texas is about 15 miles northeast of the McCulloch county seat, Brady, TX. The county has an estimated population of 8,283 (US Census) and a land area of 1,069 square miles.
The local ARRL-affiliated club, the Heart of Texas Ham Operator Group (http://www.hothog.org/), meets monthly on the second Monday of the month. Visitors are always welcome. There are several repeaters in the area, including WA5HOT (444.875 mHz, tone 162.2 Hz) and KC5EZZ (146.900 mHz, tone 162.2 Hz).
The club supports an active ARES group that provides emergency communications support to the community through local served agencies and SkyWarn support in conjunction with the NWS WFO in San Angelo (code SJT). The EC is Frank Gendusa, KM5QT.
73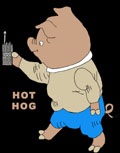 ---